Back To Height Access & Safety Compliance
Compliance and Recertification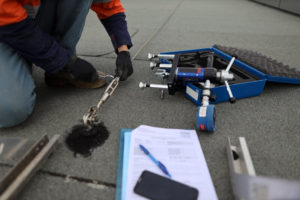 Whether it's annually or biannually, testing and recertification of all height access equipment and fall prevention assets is a legal requirement.
IOTA's qualified engineers are available to test and certify all Work at Height and Safety at Height equipment.
Speak to our team today to discuss your next compliance tests or PPM tasks.
Frequently Asked Questions
---
If an existing asset register is not available, a survey is essential to record condition and compliance.  Our team are ready to help get you started.
Every fall prevention or height safety asset must be inspected and re-certified periodically as per the Working at Height Regs 2005 and the relevant industry standard for each system or asset.
Industry Standards for the following systems are;
PFPE –Harnesses, Lanyards, Ropes & Grabs etc.
BS EN 365:2004 Personal protective equipment against falls from a height. General requirements for instructions for use, maintenance, periodic examination, repair, marking and packaging.
Guardrails
BS EN 13374:2013+A1:2018 Temporary edge protection systems
Mobile Man Anchors
BS EN 795:2012 Personal fall protection equipment TYPE E
Cable Fall Prevention Systems
BS EN 795:2012 Personal fall protection equipment TYPE A & C
Walkways & Fragile rooflight Covers
UK building regs 2010 Document K, Part K1
Protection from falling, collision and impact: Approved Document K
Caged Safety Ladders
BS EN ISO 14122:2021. Safety of machinery —Permanent means of access to machinery —Part 4: Fixed ladders