Back To Height Access & Safety Compliance
Permanent Safety Ladders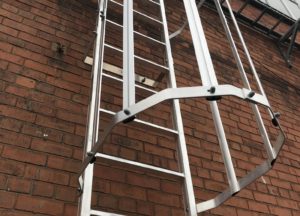 Fixed safety ladders provide safe, designated access to elevated areas such as rooftops, ceiling spaces and maintenance platforms.
When considering the service lifespan of a building, permanent safety ladders are the most efficient and cost-effective way of access to any high space.
Our ladder systems are modular and versatile, adapting to any substrate, roof type or parapet arrangement.
Our installation teams are trained and competent to install and certify to the standard for ladder heights BS EN ISO 14122:2016:4.
Do you need help with configuring a permanent safety ladder?
Frequently Asked Questions
---
There is no maximum height for a caged safety ladder, however where a ladder or run of ladders rises a vertical distance of 9 metres or more above its base, there needs to provision of safe landing areas or rest platforms, normally no more than 6m apart.
Yes, ladders can be secured with lock-off gates.
Yes. As safety at height asset, we recommend ladders be inspected at least once a year by a competent safety specialist to ensure compliance to BS EN ISO 14122:2016:4